Balls'n'Eggs'n'Fashion'n'The Book of Faces: Hope in a Sea of Blue Thumbs
.
FYI, a lovely lady-friend re-posted what I posted and criticism blew up a bit on Facebook. I'm not against guys acting like girls who take it seriously, but as for the rest of us, maybe we shouldn't.
To refresh:
.
Even if you consider yourself open-minded, some of the pieces from the Autumn/Winter mens' fashion week 2014 collections in London may give you pause.
While women are often seen in so-called "menswear"— trousers, tailored suits, neckties — men in so-called "womenswear" are very rare. And who to say what is only for women, anyway?
Writing for
The New York Times
, noted fashion critic Suzy Menkes
declared
that the J.W. Anderson show on Tuesday "rekindled he masculine-feminine debate in 21st-century fashion."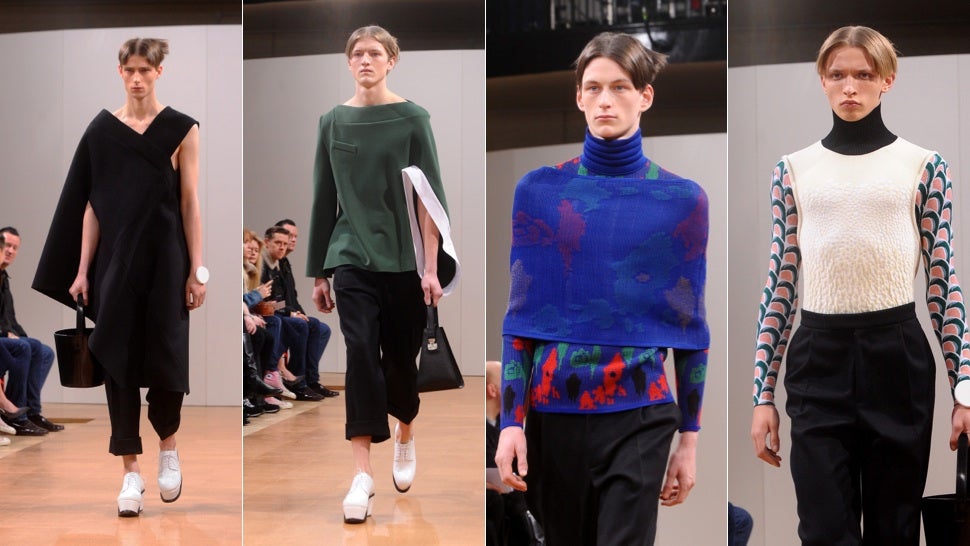 Expand
J.W. Anderson AW14
Anderson's collection wasn't the only one: Designs by Astrid Anderson and Lee Roach also pushed the boundaries of what we consider to be "menswear." Boundaries that are, of course, completely social constructs. Go back far enough in human history (prehistoric times?) and you'll find that one-shouldered dresses were a unisex phenomenon. High heels were first worn by men — persian warriors, cowboys,
Louis XIV
. Drapey desses were worn by men and boys in several different eras, from togas to tunics. And in some cultures and religions, robes and gowns are
still
acceptable menswear… think of caftans, djellabas, the Pope.
But still, some of the designs shown in London are jarring.
.
As a public service, I'm re-posting couple of my responses, but the good news is there's hope.
.
I used to wonder why so many big-ass Canadian dudes looked like skinny-ass wimps from far away... and it must be the skinny-ass jeans and shiznit. I can appreciate how chicks dig a guy's hot bod, but I'm not sure if they dig that bod dressed up like chicks, or if they say they do, what does that really mean? :?
Cold dawg, I feel ya and sly skeezin' notwithstanding, I feel sorry for girls raised to like guys raised to basically want to compete with them for attention in the same girly ways they get it with few ornery men who don't want it left to give the attention a "man" gives to any of them. As I grow into a stubborn old man who just wants respect the way we used to give and get it, I'm still trying to get used to this crap and have compassion for those affected, especially the kiddies whacked more by gender-bending chemical soup, anti-social media and more than the rest of us. I think people just want respect. If it's not there then no problem, but no solution either. This is especially true for men who can shrug off most unpleasant situations, but for women and girls I feel sorry that they can't relax and be treated as inherently special like they used to. I just gave a girl working here a chocolate chip and banana muffin I got pro bono elsewhere and said "Hey, I just got a smile from a pretty girl! That's easily worth a muffin!" She said "What, that's all it takes?" I said "Honey, you're all it takes!" I submit it was and continues to be fun for as long as it does.
Now back to figuring out how to get people to pay me to fix this since I proved I can a few times.
Over 100 fun and empowering t-shirts to help people relax and feel confident selling worldwide at: